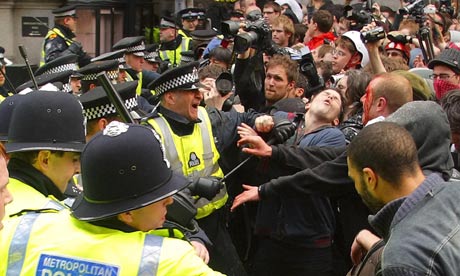 Photograph: Chris Ison/PA; Thanks to Observer; link below.
[This is a response to a comment on the piece about
Ian Tomlinson and the TSG
, the latest Anonymous comment, as the Comment slot would not take it]
Good Consternoon, Aftable.
Thank you for taking the trouble to visit and for such an extensive comment. I will deal briefly with your substantive points, as I am short of time this morning.
Anon: This phrase concerns me 'Members of the unit would also be screened by being hooked up to a polygraph and exposed to images and key words to see if they respond to right wing triggers.' Your answer is to alter what is an apolitical organisation into one which is filled with the 'right' (or left) kind of people
RL: OK: provide left wing triggers too, in order to balance it up. Would that be acceptable to you?
Would you be prepared to place a £10 bet, proceeds to go to Practical Action, on which side will get more positives?
Anon: At the G20 people in some places were not behaving, and it was necessary to try to restore order.
RL: Events at the Climate Camp give you the
Lie Direct
.
Anon: It is not the fault of the police or any police tactic on the day that lead to violence, but the intent of some in the crowd.
RL: The police are beyond blame in any circumstances?
Anon: As to your criticism of containment as a tactic, how do you propose that we prevent the events of the may-day riots of around a decade ago. This tactic has proven highly effective at stopping this kind of disorder, if this is removed from the options it is only a short time till we see disorder like this again and we will be blamed for failing to keep control of them.
RL: Kettling/containment may be used as a response to real violent disorder, but must never again be used on peaceful demonstrators.
Anon: Granted the containment tactic will lead to some non violent people being detained, however this has been a tactic for around a decade and the vast majority of people are aware of it, yet choose to come to protests (generally the tactic is used at illegal protests as opposed to organised and lawfull protests).
RL: So any demo we choose to go to may result in being detained? We should bring tents, provisions and sleeping bags to all demos? Will you provide Portaloos?
RL: You have also mentioned 'agents provocateurs' please justify this, as this is not a tactic the police use, we attempt to minimise the use of force, not incite it. This is in my opinion an absolutely outrageous allegation and should be corrected immediately.
RL: The grossest example is with the Black Bloc in Geneva - admittedly, italian police, not peelers, but we have to make sure we don't even set off in the Italian direction.
I personally have been heckled by a pair of what I reasonably suppose to be agents provocateurs at an Aldermaston demo.
Craig Murray has an incident here.

And here's an Observer piece.
More evidence
UK agent provocateur search here
, full of evidence.
Anon: You have also contradicted yourself, you have said how you are not 'anti-police' yet you repeatedly fail to show respect to the anonymous poster calling him 'Anonymofficer.'
RL: I have to differentiate the Anonymi who write in. I do not respect Anonymouses as much as people with an identity, just as you would tend to be suspicious of masked demonstrators.
Anon: And finally when you compare the tactics of the British police with our continental cousins, we do not use tear gas, we haven't used baton rounds. We very rarely even get our helmets on, even when under attack from missiles, for fear of 'provoking a riot.' So how do you propose we deal with the admittedly small corps of protesters intent on causing disruption?
RL: see above. You can defend yourselves against real trouble. Just please refrain from attacking and provoking non-violent demonstrators. Please, in all our interests - yours and ours. Remember that we are all there to uphold democratic values.
To finish on a note of agreement, I hope that we can both agree that it is regrettable that the media give more coverage to violent demos than to non-violent demos, which is itself an indirect incitement to riot.