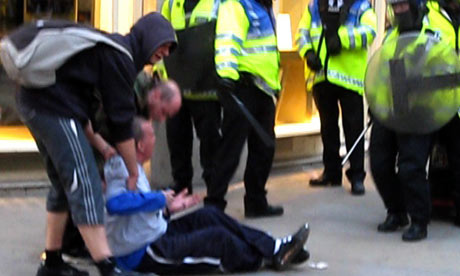 TSG officers using lethal intimidation and violence on a citizen












Proper police officers doing their duty at Glastonbury





There was a petition to No 10 Downing Street about the policing of the G20 Climate Camp

The Government response here begins"

It is a long-standing tradition in this country that people are free to gather together and to demonstrate their views provided that they do so within the law.

Equally, people have a right to be free to carry out their lawful business without fear of intimidation and violence."



The implication being that among the protesters are agents of intimidation and violence, and it is the duty of the police to protect the right of peeps to carry out their lawful &c.

The fact of the matter is that Ian Tomlinson was an ordinary citizen carrying out his lawful business of making his way home from work, and that he was exposed to

intimidation and violence by an unnumbered police officer

from the TSG which led to his death.

The lack of irony in Government using this phrase in these circumstances is truly terrifying, showing how far from reality the Government officials who draft up these statements are.

We should go back to Government and point this out, but today I am beginning to weary of the Sisyphean task of trying to speak truth to power. So I am going to do some woodwork, to make a natural bracket to hold the hose that conducts the rainwater from my water butt to do its lawful business on the garden. I just home someone from the TSG doesn't come and cut it - or, more to the point, cut my car's brakepipes.